Royal Design Studio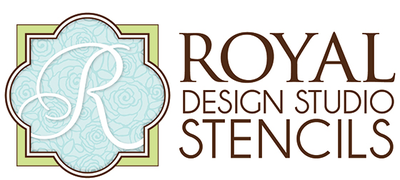 Royal Design Studio Stencils have been the leading stencil designer of furniture and wall stencils since 1994 and Gaysha is pleased to be your local stockist in Townsville. We continue their mission to share our passion for paint and stencil patterns by offering you the latest design trends and decorating ideas. Royal Design Studio design and manufacture all of their furniture and wall stencils in their San Diego location. Gaysha has their exclusive stencil designs, including the popular Moroccan Wall Stencils, versatile Furniture Stencils, and elegant Allover Large Damask Wall Stencils. These designer furniture and wall stencils are reusable, cut from the highest quality durable mylar plastic, and allow you to create custom stencil art that look like decoupage or traditional wallpaper without the hassle or the expense. Plus, unlike wallpaper, a stencil will  allow you to paint your patterns in the colours of your choice. Browse our floral wall stencils, border wall stencils, craft stencils, furniture pattern stencils, and new wall stencils designs now!
Our stencil designs are also ideal to paint and decorate cabinets, customise fabrics for pillows or napkins, and apply patterns to furniture painting projects. Visit Royal Design Studio often for new wall stencil ideas and inspiration on the  Stencil Ideas Blog! 
Check out Royal Design Studio detailed step-by-step tutorials on the How to Stencil pages: https://www.royaldesignstudio.com/blogs/stenciling-tips
Find the range of stencils that we have on offer for you to buy online and in our store in South Townsville.  Stencils are available for use when you attend our Workshops and can also be hired on a weekly basis to our in-store customers.
Royal Design Studio Stencils and Royal Stencil Cremes are the ultimate for experienced and beginning stencil artisans alike. The Stencil Creme dreamy, cream formula glides off your stencil brushes for excellent coverage and flow with less brush reloading!  Stencil Creme paints dry quickly to a hard, durable surface and work on all the surfaces you want to stencil on - smooth to textured. These paints feature a velvety, gel-based formula to resist stencil run-unders. They clean up like a dream with soap and water and offer minimal buildup of paint on stencils and brushes.
Stencil Cremes work GREAT over Chalk Paint from Annie Sloan too! Find pretty colour combinations on Royal Design Studio Stencil Ideas Blog.

See how to use Royal Stencil Creme paint in our FREE Information booklet: Introduction to Royal Stencil Cremes
STENCILS: YOUR EASY & AFFORDABLE SOLUTION TO CUSTOM DECOR!
The most affordable and beautiful alternative to expensive designer home decor is Royal Design Studio Stencils. Stencils help you create the exact pattern style you want, but without the high price tag of a store bought statement piece. You CAN have a beautiful room makeover on a small budget!
Royal Design Studio Stencils are reusable and cut from the highest quality durable mylar plastic. But don't worry, these aren't your grandmother's rose and vine paint stencils! These trendy stencil designs are reinventing what it means to stencil and are all the rage in today's interiors. They easily make a space look chic and designer inspired.
STENCIL, PAINT, & PRODUCT QUESTIONS
What are your stencils made from?
Our stencils are laser cut from industry standard clear mylar plastic. The vast majority of our stencil designs are cut from thicker 10mil mylar. A few of our larger designs need to be cut from 7mil mylar
Mylar is very durable, meaning that you can use your stencils successfully and indefinitely as long as you clean and store them properly (loosely rolled). You can clean your stencil with ordinary washing up liquid, and for more stubborn residue we find that Sugar Soap works well.
See How to Clean Stencils and Brushes for more details on stencil cleaning techniques.
Which is better for stenciling: brushes or rollers?
Both Royal Design Studio Stencil Brushes and dense foam Annie Sloan Paint Rollers make great options for both beginning and experienced stencilers. Both options are available to purchase along with your stencil order in our Brushes Rollers & Tools area. Like any other art or craft, the more practice and experience you have stencil brushes and rollers the easier it becomes.
Stencil Brush Pros
Our Stencil Brushes come in many different sizes. You can choose the best size for your project. Using smaller brushes allows you to control the application of paint to smaller areas. This is especially handy when you are trying to color different pattern areas with contrasting colors. Use larger stencil brushes when just stenciling in one color. Large flat bottom brushes up to 3" wide, allow you to stencil large stencil patterns quickly
Stencil Brushes give you better control over the application of paint and the amount of pressure you use. This leads to cleaner edges with less opportunity for paint to bleed under the stencil-and less touch-ups at the end of your stencil project!
*As always with stenciling, it's important to off-load excess paint on to paper towels each time you reload the brush.
Stencil Brush Cons
Stencil Brushes can't cover the same amount of area as quickly as a paint roller, so ultimately it can take longer to complete a stencil project with a smaller brush. However, we have developed our own Annie Sloan Stencil Brush that holds a lot of paint and works very quickly for larger stencil patterns.
Stencil Paint Roller Pros
Annie Sloan Paint Rollers come in two sizes are ideal for projects where you are using a single color and the stencil design elements are large, because it can fill in those areas more quickly than using a smaller stencil brush.
Stencil Paint Roller Cons
It's a bit harder to assess and control the amount of pressure you are using on the Annie Sloan Paint Roller. You have to be very careful to consistently offload a good amount of paint and make sure that the paint is well distributed across the roller to keep the paint from seeping under the stencil.
Because you have to use such a "dry" roller, you may find that you have to go over the same area many times to get good coverage. You will also use a lot more paint for your project as much of it gets offloaded onto paper towels in order to get the right amount of "dryness" on the roller.
Is stenciling hard? How much practice do I need?
Stenciling is a craft that is available to be learned by anyone, even children. Like any other craft, it helps to use the best stencil tools, have some basic stencil instructions, and practice first.
The more you practice stenciling the more second nature it will become, as you get a feel for the ideal amount of paint and pressure to use with your stencil brush and roller for perfect results.
We recommend practicing at first on scrap practice paper, cardboard, or even an out-of-site wall surface, like the inside of a closet.
How do I keep paint from bleeding under my stencil?
The most important step in any stencil project is REMOVING EXCESS PAINT carefully and consistently each and every time your reload your stencil brush or roller. If you do this you should almost never have paint seeping under your stencil edges.
The other key is to make sure you are stenciling with a good thick craft acrylic paint, flat-sheened latex paint, or "chalk" type paint.
Finally, do your stencil project on a somewhat porous surface, such as a flat-sheen painted wall, fabric, painted wood, or concrete. It is almost impossible to keep paint seepage from happening if you try to stencil on any hard or glossy surface.
If you DO have paint seepage, be sure to wipe any wet paint off the back of your stencil before putting it back on your wall.
Remember that Gaysha are trained to use these products and can advise you on any difficulties that you may experience. Or come to an Introduction to Chalk Paint Workshop and learn in a hands on training with Rose and Ray.